Bài tập trắc nghiệm môn Tiếng Anh Lớp 8 - Unit 7: Pollution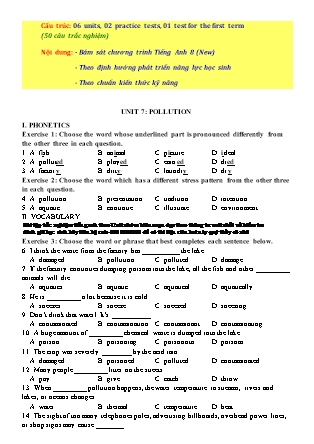 I. PHONETICS
Exercise 1: Choose the word whose underlined part is pronounced differently from the other three in each question.
1. A. fish B. animal C. picture D. ideal
2. A. polluted B. played C. earned D. died
3. A. factory B. dirty C. laundry D. dry
Exercise 2: Choose the word which has a different stress pattern from the other three in each question.
4. A. pollution B. presentation C. tradition D. intention
5. A. aquatic B. continue C. illustrate D. environment
II. VOCABULARY
Exercise 3: Choose the word or phrase that best completes each sentence below.
6. I think the waste from the factory has __________ the lake.
 A. damaged B. pollution C. polluted D. damage
7. If the factory continues dumping poisons into the lake, all the fish and other _________ animals will die.
 A. aquatics B. aquatic C. aquatical D. aquatically
8. He is _________ a lot because it is cold.
 A. sneezes B. sneeze C. sneezed D. sneezing
9. Don't drink that water! It's __________.
 A. contaminated B. contamination C. contaminant D. contaminating
10. A huge amount of _________ chemical waste is dumped into the lake.
 A. poison B. poisoning C. poisonous D. poisons
11. The crop was severely ________ by the acid rain.
 A. damaged B. poisoned C. polluted D. contaminated
12. Many people _________ litter on the streets.
 A. pay B. give C. catch D. throw
13. When _________ pollution happens, the water temperature in streams, rivers and lakes, or oceans changes.
 A. water B. thermal C. temperature D. heat
14. The sight of too many telephones poles, advertising billboards, overhead power lines, or shop signs may cause _______.
 A. light pollution B. air pollution C. visual pollution D. sight pollution
15. Many children around the world are suffering from birth defects because their parents are _________ to radiation.
 A. worked B. exposed C. expressed D. supposed
Choose the word or phrase that is CLOSEST in meaning to the underlined part in each of the following sentences.
16. The supply is being tested for contamination.
 A. population B. pollution C. combining D. containing
17. The fumes from vehicles is a contributing factor to make people cough.
 A. noise B. fuel C. exhaust D. water
18. Several new botanical species have been killed in the last year because of water and soil pollution.
 A. mammals B. plants C. insects D. flowers
Bạn đang xem tài liệu "Bài tập trắc nghiệm môn Tiếng Anh Lớp 8 - Unit 7: Pollution", để tải tài liệu gốc về máy bạn click vào nút DOWNLOAD ở trên
Cấu trúc: 06 units, 02 practice tests, 01 test for the first term
(50 câu trắc nghiệm)
Nội dung: - Bám sát chương trình Tiếng Anh 8 (New)
	 - Theo định hướng phát triển năng lực học sinh
	 - Theo chuẩn kiến thức kỹ năng
UNIT 7: POLLUTION
I. PHONETICS
Exercise 1: Choose the word whose underlined part is pronounced differently from the other three in each question.
1. A. fish 	B. animal 	C. picture 	D. ideal
2. A. polluted 	B. played 	C. earned 	D. died
3. A. factory 	B. dirty 	C. laundry 	D. dry 
Exercise 2: Choose the word which has a different stress pattern from the other three in each question.
4. A. pollution 	B. presentation 	C. tradition 	D. intention 
5. A. aquatic 	B. continue 	C. illustrate 	D. environment 
II. VOCABULARY
Exercise 3: Choose the word or phrase that best completes each sentence below.
6. I think the waste from the factory has __________ the lake.
 A. damaged 	B. pollution 	C. polluted 	D. damage 
7. If the factory continues dumping poisons into the lake, all the fish and other _________ animals will die.
 A. aquatics 	B. aquatic 	C. aquatical 	D. aquatically
8. He is _________ a lot because it is cold.
 A. sneezes 	B. sneeze 	C. sneezed 	D. sneezing
9. Don't drink that water! It's __________.
 A. contaminated 	B. contamination 	C. contaminant 	D. contaminating
10. A huge amount of _________ chemical waste is dumped into the lake.
 A. poison 	B. poisoning 	C. poisonous 	D. poisons
11. The crop was severely ________ by the acid rain.
 A. damaged 	B. poisoned 	C. polluted 	D. contaminated
12. Many people _________ litter on the streets.
 A. pay 	B. give 	C. catch 	D. throw
13. When _________ pollution happens, the water temperature in streams, rivers and lakes, or oceans changes.
 A. water 	B. thermal 	C. temperature 	D. heat
14. The sight of too many telephones poles, advertising billboards, overhead power lines, or shop signs may cause _______.
 A. light pollution 	B. air pollution 	C. visual pollution D. sight pollution
15. Many children around the world are suffering from birth defects because their parents are _________ to radiation.
 A. worked 	B. exposed 	C. expressed 	D. supposed
Choose the word or phrase that is CLOSEST in meaning to the underlined part in each of the following sentences.
16. The supply is being tested for contamination.
 A. population 	B. pollution 	C. combining 	D. containing
17. The fumes from vehicles is a contributing factor to make people cough.
 A. noise 	B. fuel 	C. exhaust 	D. water
18. Several new botanical species have been killed in the last year because of water and soil pollution.
 A. mammals 	B. plants 	C. insects 	D. flowers
Choose the word or phrase that is OPPOSITE in meaning to the underlined part in each of the following sentences.
19. Two years ago, the reduction in water and noise pollution in this city was dramatic.
 A. impressive 	B. normal 	C. marked 	D. traditional
20. Because warmer water has less oxygen in it, it can harm fish populations and cause harmful algal blooms.
 A. support 	B. reduce 	C. contaminate 	D. illustrate
III. GRAMMAR
Exercise 4: Choose the word or phrase that best completes each sentence below.
21. If you __________ noise pollution for a long time, you can have headaches and hearing loss. 
 A. experience 	B. will experience C. experienced 	D. can experience
22. If there ________ fewer cars on the road, there would be less noise pollution.
 A. is 	B. are 	C. was 	D. were
23. I wouldn't throw litter on the ground if I ________ you.
 A. was 	B. were 	C. will be 	D. am
24. If Trang _______ her room every day, her mother _______ so upset.
 A. tided/ wouldn't be 	C. tidies/isn't
 B. tides/ won't be 	D. tided/ won't be
25. May aquatic animals die ________ the polluted water.
 A. because 	B. due to 	C. because of 	D. Both B&C
26. The cold weather in this country often makes him ________.
 A. sneezing 	B. sneeze 	C. to sneeze 	D. sneezed
27. _______ there was a lot of acid rain, many botanical species died last year.
 A. Since 	B. Cause 	C. Although 	D. So
28. We ________ pay so much money for electricity a month if we ________ the air conditioner all the time.
 A. wouldn't have to/ don't turn on 	C. wouldn't had to/ didn't turn on
 B. would have to/ didn't turn on 	D. wouldn't have to/ didn't turn on
29. If the villagers didn't dump households waste into the river, it _______ less contaminated now.
 A. will be 	B. is 	C. could be 	D. being
30. If Hoa ________ ill, she would join our activity to protect the local environment.
 A. wasn't 	B. weren't 	C. isn't 	D. Both A&B
Exercise 5: Choose the underlined part that needs correcting in each sentence below.
31. Water pollution(A) is the contamination of bodies(B) of water(C) such(D) lakes, rivers, oceans, and groundwater.
32. Polluted(A) water also cause(B) the death(C) of aquatic(D) animals like fish or crabs.
33. If we didn't(A) do nothing(B) to stop global warming, we would(C) see big changes(D) in the future.
34. People in our area are all(A) aware about(B) this problem, and we are thinking of(C) some ways to(D) to solve it.
35. I think I would(A) knock on(B) their door and explained(C) that it was polluting(D) the area.
IV. READING
Exercise 6: Read the passage and then decide whether the sentences are True(T) or False(F).
Environmental pollution is one of the impacts of human activities on the Earth. There are four types of pollution, namely, air pollution, soil pollution, water pollution and noise pollution.
Most of the air pollution results from the burning of fossil fuels, motor vehicles, factories, aircraft and rockets. This can cause acid rain which damages water, soil, and plants. Air pollution also contributes to the greenhouse effect.
Soil pollution is a result of dumping plastic or other waste in the ground and the overuse of chemicals in growing crops. The long-term effects of soil pollution are contaminated vegetation and the decrease of soil fertility.
Water pollution is a result of dumping pollutants such as oil and other chemicals in rivers, which makes the water unclean or contaminated. Rubbish blockages in rivers can also cause pollution.
The effects of water pollution include the destruction of rivers, lakes and the pollution of groundwater, surface water and seawater.
Noise pollution is caused by loud and annoying sounds of motor vehicles, railway, aircraft and jet engines, factory machinery and musical instruments. It can cause stress and psychological and health problems for humans such as increased heart rate and hearing damage.
Environmental pollution is becoming an increasingly serious problem or threat that needs to be taken care of as soon as possible, not only for the sake of the environment, but also for the people that live in it.
(Source: Adapted from Time and date)
T
F
36.
Environmental pollution results from natural disasters.
37.
The greenhouse effect is a result of water pollution.
38.
Water pollutants such as oil and other chemicals and rubbish blockages in river make contaminated.
39.
Noise pollution can increase heart rate and damage hearing.
40.
Environmental pollution needs to be taken care to protect the environment and the people that live in it.
Exercise 7: Read the following passage and choose the option (A, B, C or D) that best answers each of the questions below.
 Pollution is any contamination of the environment which causes harm to the environment or the inhabitants of the environment. There are three main kinds of pollution.
 Air pollution can be caused by liquids, or gases that make the air harmful to breathe. There are two main types of air pollution: primary and secondary. Primary pollutants enter the air directly, like smoke from factories and car exhaust. Secondary pollutants are chemicals that mix together to pollute the air, like mixtures of emissions from vehicles and factory smoke that change to form more dangerous pollutants in the air and sunlight.
 Soil pollution can be caused by pesticides, leakage from chemical tanks, oil spills, and other chemicals which get into the soil by dumping or accidental contamination. Soil pollution can also cause water pollution when underground water becomes contaminated by coming into contact with the polluted soil.
 Water pollution can be caused by waste products, sewage, oil spills, and litter in streams, rivers, lakes, and oceans. Some scientists believe that water pollution is the largest cause of death and disease in the world, causing about 14,000 deaths in the world each day.
 It is not possible for anyone to predict the exact timing and effects of global, pollution and global climate change brought about by pollution. There, is general agreement by scientists that the global climate will continue to change, the intensity of weather elfects will continue to increase, and some species of animals will become extinct.
(Adapted from BBC)
41. What is the most suitable title for the passage?
 A. Solutions to pollution 
 B. Environmental issues
 C. Causes and effects of pollution
 D. Environmental impacts
42. What kind of pollution is considered as the cause of the most death and disease?
 A. Air pollution
 B. Water pollution
 C. Soil pollution
 D. None of the above
43. What is NOT a cause of soil pollution?
 A. Chemicals
 B. Exhaust fumes
 C. Oil sprills
 D. Pesticides
44. What kind of pollution may oil sprills cause?
 A. Air pollution 
 B. Water pollution 
 C. Soil pollution
 D. Both B and C are correct
45. According to the agreement of scientists, what is NOT environmental effect caused by pollution?
 A. Global climate change 
 B. Intensity of weather effects
 C. Animal extinction
 D. Disappearance of the rainforests
V. WRITING
Exercise 8: Choose the sentence (A, B, C or D) that is closest in meaning to the root sentence or best combines the two given sentences.
46. I don't have enough money, so I don't buy seafood.
 A. If I have enough money, I will buy seafood.-
 B. If I had enough money, I would buy seafood.
 C. If I didn't have enough money, I didn't buy seafood.
 D. If I didn't have enough money, I would buy seafood.
47. I didn't bring my umbrella so I got wet.
 A.I would not get wet if I bring my umbrella.
 B. If I brought my umbrella, I will not got wet.
 C. If 1 brought my umbrella, I would not get wet.
 D. If 1 brought my umbrella, 1 would not got wet.
48. I don't live with my mother, so that I can't take care of her.
 A. I can't take care of my mother because of I don't live with her.
 B. Since I don't live with my mother, I can't take care of her.
 C. Because not living with my mother so I can't take care of her.
 D. Because not live with my mother, 1 can't take care of her
49. I can't buy this house because il is quite expensive.
 A. If the house is quite expensive, 1 can buy it.
 B. If the house is not quite cheap, 1 will buy it.
 C. If the house wasn't quite expensive, 1 couldn't buy il.
 D. None is correct
50. I wrote a letter to my neighbours because they littered near my house.
 A. Because of littering near my house, I wrote a letter to my neighbours.
 B. Because of littering near my house, my neighbours wrote me a letter.
 C. Since littering near my house, I wrote a letter to my neighbours.
 D. I wrote a letter to my neighbours due to the fact that they tittered near my house.
_____The end_____
UNIT 7: POLLUTION
I. PHONETICS
Choose the word whose underlined part is pronounced differently from the other three in each question.
1. A. fish 	B. animal 	C. picture 	D. ideal
2. A. polluted 	B. played 	C. earned 	D. died
3. A. factory 	B. dirty 	C. laundry 	D. dry 
Choose the word which has a different stress pattern from the other three in each question.
4. A. pollution 	B. presentation 	C. tradition 	D. intention 
5. A. aquatic 	B. continue 	C. illustrate 	D. environment 
II. VOCABULARY
Choose the word or phrase that best completes each sentence below.
6. I think the waste from the factory has __________ the lake.
 A. damaged 	B. pollution 	C. polluted 	D. damage 
7. If the factory continues dumping poisons into the lake, all the fish and other _________ animals will die.
 A. aquatics 	B. aquatic 	C. aquatical 	D. aquatically
8. He is _________ a lot because it is cold.
 A. sneezes 	B. sneeze 	C. sneezed 	D. sneezing
9. Don't drink that water! It's __________.
 A. contaminated 	B. contamination 	C. contaminant 	D. contaminating
10. A huge amount of _________ chemical waste is dumped into the lake.
 A. poison 	B. poisoning 	C. poisonous 	D. poisons
11. The crop was severely ________ by the acid rain.
 A. damaged 	B. poisoned 	C. polluted 	D. contaminated
12. Many people _________ litter on the streets.
 A. pay 	B. give 	C. catch 	D. throw
13. When _________ pollution happens, the water temperature in streams, rivers and lakes, or oceans changes.
 A. water 	B. thermal 	C. temperature 	D. heat
14. The sight of too many telephones poles, advertising billboards, overhead power lines, or shop signs may cause _______.
 A. light pollution 	B. air pollution 	C. visual pollution D. sight pollution
15. Many children around the world are suffering from birth defects because their parents are _________ to radiation.
 A. worked 	B. exposed 	C. expressed 	D. supposed
Choose the word or phrase that is CLOSEST in meaning to the underlined part in each of the following sentences.
16. The supply is being tested for contamination.
 A. population 	B. pollution 	C. combining 	D. containing
17. The fumes from vehicles is a contributing factor to make people cough.
 A. noise 	B. fuel 	C. exhaust 	D. water
18. Several new botanical species have been killed in the last year because of water and soil pollution.
 A. mammals 	B. plants 	C. insects 	D. flowers
Choose the word or phrase that is OPPOSITE in meaning to the underlined part in each of the following sentences.
19. Two years ago, the reduction in water and noise pollution in this city was dramatic.
 A. impressive 	B. normal 	C. marked 	D. traditional
20. Because warmer water has less oxygen in it, it can harm fish populations and cause harmful algal blooms.
 A. support 	B. reduce 	C. contaminate 	D. illustrate
III. GRAMMAR
Choose the word or phrase that best completes each sentence below.
21. If you __________ noise pollution for a long time, you can have headaches and hearing loss. 
 A. experience 	B. will experience C. experienced 	D. can experience
22. If there ________ fewer cars on the road, there would be less noise pollution.
 A. is 	B. are 	C. was 	D. were
23. I wouldn't throw litter on the ground if I ________ you.
 A. was 	B. were 	C. will be 	D. am

Tài liệu đính kèm:
bai_tap_trac_nghiem_mon_tieng_anh_lop_7_unit_7_pollution.doc