Bài tập trắc nghiệm kiểm tra Tiếng anh Lớp 8 - Unit 2: Life in the Countryside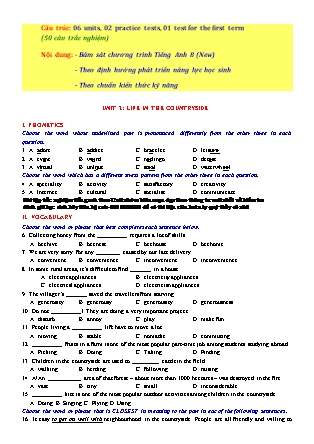 Choose the word or phrase that best completes each sentence below.
6. Collecting honey from the __________ requires a lot of skills.
 A. beehive B. beenest C. beehouse D. beehome
7. We are very sorry for any ________ caused by our late delivery.
 A. convenient B. convenience C. inconvenient D. inconvenience
8. In some rural areas, it's difficult to find _______ in a house.
A. electric appliances B. electricity appliances
C. electrical appliances D. electrician appliances
9. The villager's _______ saved the travellers from starving.
 A. generosity B. generousy C. generousity D. generousness
10. Do not __________! They are doing a very important project.
 A. disturb B. annoy C. play D. make fun
11. People living a __________ life have to move a lot.
 A. moving B. stable C. nomadic D. commuting
12. __________ fruits in a farm is one of the most popular part-time job among students studying abroad.
 A. Picking B. Doing C. Taking D. Finding
13. Children in the countryside are used to _________ cattle in the field.
 A. walking B. herding C. following D. raising
14. A/An ___________ area of that forest – about more than 1000 hectares – was destroyed in the fire.
 A. vast B. tiny C. small D. inconsiderable
Bạn đang xem tài liệu "Bài tập trắc nghiệm kiểm tra Tiếng anh Lớp 8 - Unit 2: Life in the Countryside", để tải tài liệu gốc về máy bạn click vào nút DOWNLOAD ở trên
Cấu trúc: 06 units, 02 practice tests, 01 test for the first term
(50 câu trắc nghiệm)
Nội dung: - Bám sát chương trình Tiếng Anh 8 (New)
	 - Theo định hướng phát triển năng lực học sinh
	 - Theo chuẩn kiến thức kỹ năng
UNIT 2: LIFE IN THE COUNTRYSIDE
I. PHONETICS
Choose the word whose underlined part is pronounced differently from the other three in each question. 
1. A. adore 	B. addict 	C. bracelet 	D. leisure
2. A. event 	B. weird 	C. netlingo 	D. detest
3. A. virtual 	B. unique 	C. steal 	D. waterwheel
Choose the word which has a different stress pattern from the other three in each question.
4. A. speciality 	B. activity 	C. satisfactory 	D. creativity	
5. A. Internet 	B. cultural 	C. socialise 	D. communicate
II. VOCABULARY
Choose the word or phrase that best completes each sentence below.
6. Collecting honey from the __________ requires a lot of skills.
 A. beehive 	B. beenest 	C. beehouse 	D. beehome
7. We are very sorry for any ________ caused by our late delivery.
 A. convenient 	B. convenience 	C. inconvenient 	D. inconvenience
8. In some rural areas, it's difficult to find _______ in a house.
A. electric appliances 	B. electricity appliances 
C. electrical appliances 	D. electrician appliances
9. The villager's _______ saved the travellers from starving.
 A. generosity 	B. generousy 	C. generousity 	D. generousness
10. Do not __________! They are doing a very important project.
 A. disturb 	B. annoy 	C. play 	D. make fun
11. People living a __________ life have to move a lot.
 A. moving 	B. stable 	C. nomadic 	D. commuting
12. __________ fruits in a farm is one of the most popular part-time job among students studying abroad.
 A. Picking 	B. Doing 	C. Taking 	D. Finding
13. Children in the countryside are used to _________ cattle in the field.
 A. walking 	B. herding 	C. following 	D. raising
14. A/An ___________ area of that forest – about more than 1000 hectares – was destroyed in the fire.
 A. vast 	B. tiny 	C. small 	D. inconsiderable
15. __________ kite is one of the most popular outdoor activities among children in the countryside.
 A. Doing B. Singing C. Flying D. Using
Choose the word or phrase that is CLOSEST in meaning to the part in eac of the following sentences.
16. It easy to get on well with neighbourhood in the countryside. People are all friendly and willing to help each other.
 A. to work together with 	B. to be a helpful friend of
 C. to have a friendly relationship with 	D. to exchange goods with
17. The baby is sleeping sound in her mother's arms.
 A. deeply and peacefully 	B. easily to wake up
 C. sensibly 	D. safely
18. People in this village are all skilful craftsmen. Their products are qualified for the European market.
 A. professional 	B. amateur 	C. intelligent 	D. fast
Choose the word or phrase that is OPPOSITE in meaning to the underline part in each of the following sentences.
19. She's a sociable child who loves to talk to anyone.
 A. outgoing 	B. anti-social 	C. lovely 	D. unfriendly 
20. The King was not brave enough to protect his kingdom and let the monster take the Princess away.
 A. courageous 	B. confident 	C. strong 	D. coward
III. GRAMMAR
Choose the word or phrase that best completes each sentence below.
21. Sunny sings the song __________ than Jessie does.
 A. more well 	B. better 	C. more good 	D. best
22. Today, Ly came to class _________ than she did yesterday.
 A. earlier 	B. more earlily 	C. more early 	D. too earlier
23. Is living in the countryside _________ than living in the city?
A. much convenient 	B. more convenient 
C. most convenient 	D. too convenient
24. The storm is becoming __________ than it was yesterday.
 A. severe 	B. severely 	C. more severe 	D. more severely
25. The cake tastes ___________ than we expected
 A. delicious 	B. more delicious 	C. deliciously 	D. more deliciously
26. She is trying to work _________ for her upcoming exam.
 A. more hardly 	B. hardly 	C. hardlier	 	D. harder
27. It seems to be _________ idea so far
 A. most brilliant 	B. more brilliant 	C. the most brilliant D. the more brilliant
28. Tiffany dances so _________ that nobody thinks that she's actually a vocalist.
 A. well 	B. good 	C. badly 	D. bad
29. Girls' Generation is considered one of the ______ Asian girl groups in the 21st century.
 A. successful 	B. more successful 	C. most successful D. the most successful
30. Goldfish band looks cute but they sing live much _________ than I thought.
 A. bad 	B. badly 	C. worse 	D. more badly
Choose the underlined part that needs correcting in each sentence below.
31. The stage was lighted (A) brighter (B) than it was (C) according (D) to the plan
32. Farmers nowadays apply (A) more(B) modern techniques on the farm so that their work becomes less (C) harder (D) than before.
33. My dad has been (A) a(B) stamp collection(C) for more (D) than 20 years.
34. Traditional (A) people in this mountainous (B) area live (C) a nomadic (D) life.
35. After the harvesting (A) time, the farmers load (B) the drawn-buffalo (C) cart with (D) hay.
IV. READING
Read the passage and then decide whether the sentences are True (T) or False (F) 
 City life has its advantages and disadvantages and so does country life; however, there seems to be an increased interest in the country, especially among young families. If you are thinking about moving to the country as well but are not sure if it is a good idea, it may help to look at the benefits of country life. In the country, you are woken up by the singing of the birds rather by the noise from the traffic. Homes in the countryside are surrounded by nature which has a shooting effect on both the mind and the body. Due to virtual absence of cars and factories, you will not be breathing any potentialliy toxic fumes in the country. Clean air is one of the main advantages of country life over city dwelling. In the country, everyone knows everyone and people actually say 'hello'. Communities in the country are much smaller but they are more connected and open. People in the country are really friendlier and are prepared to help without asking anything in return.
 	 (Source: Adapted from Country life)
T
F
36. More and more young families like living in the countryside.
37. Communities in the city are much smaller than those in the city.
38. In the countryside, birds' singing is very noisy.
39. There are not many cars and factories in the countryside.
40.In the countryside, you shouldn't pay money when being helped.
Read the following passage and choose the option (A, B, C or B) that best answers each of the questions below.
	With the habit of working in teams and being helpful to one other, villagers usually earn their living from farming, raising livestock and making handicrafts. They live in a small community with a temple or a communal cultural house where great events, such as festivals worshipping the village god and traditional games are organized. Villagers in the Southern usually live in houses lined up along central road and built on stilts to keep above flood waters. Along the coastal lines, fishermen depend on the sea as a means of livelihood. In the Central of Vietnam, a place suffering lots of natural disasters all the year round, citizens tend to be more studious and hard-working than those in regions with favourable conditions. People in the central highlands and the northern mountains live by growing rice, rubber trees coffee and tea as well as hunting.
 (Source: Adapted from Vietnam Travel Center)
41. Which can be the topic of the passage? 
 A. Villagers across the country	 	B. Villagers around the world
 C. Vietnamese life in the countryside D. Vietnamese life in the city
42. Which activity is NOT MENTIONED as a way for villagers to earn their livings?
 A. Farming	 	B. Fishing	 	C. Studying 	D. Hunting
43. Why do Southern villagers need to build their houses on stilt?
 A. To protect the house from being attacked by wild animals
 B. To protect the house from being flooded
 C. To protect the house from earthquakes
 D. To protect the house from evil things
44. Which sentence is NOT TRUE according to the passage? 
 A. There are many disasters in the Central of Vietnam
 B. Houses in the Southern part of Vietnam often 
 C. People in the Northern Mountainous earn their livings by hunting
 D. Villagers often work individually
45. Which explanation has the closest meaning to the word "studious" in the passage? 
 A. spending a lot of time studying	B. lacking of academic knowledge
 C. being lazy in studying	 	D. being very intelligent
V. WRITING
Choose the sentence (A, B, C or D) which has closest meaning to the one given.
46. Have you got any better hat than this one?
A. Is this one the worse hat you've got? 
B. Is this one the best hat you've got?
C. Is this one the better hat than this one? 
D. Is that one the better hat than this one? 
47. This is the most luxurious house I've ever seen.
A. I've never seen a more luxurious than this.
B. I've never seen the most luxurious house than this.
C. I've seen a more luxurious house than this.
 D. I've seen a more luxurious house than this.
48. He was the cleverest thief of all times.
A. All thieves are cleverer than him. 	
B. All thieves are less clever than him.
C. No thieves are clever except for him.	
D. No thieves are less clever than him.
49. Nam is more attractive story teller than Mai.
A. Nam tells stories more attractively than Mai.
B. Nam tells more attractive stories than Mai does.
C. Mai tells more attractive stories than Nam does.
D. Mai tells stories less attractively than Nam does.
50. Ronaldo plays better than anybody in the team.
A. Ronaldo is good at playing in team.
B. Ronaldo is the best player in the team.
C. No one plays worse than Ronaldo in the team.
D. Everybody plays better than Ronaldo in the team.
_____The end_____
UNIT 2: LIFE IN THE COUNTRYSIDE
I. PHONETICS
Choose the word whose underlined part is pronounced differently from the other three in each question. 
1. A. adore 	B. addict 	C. bracelet 	D. leisure
2. A. event 	B. weird 	C. netlingo 	D. detest
3. A. virtual 	B. unique 	C. steal 	D. waterwheel
Choose the word which has a different stress pattern from the other three in each question.
4. A. speciality 	B. activity 	C. satisfactory 	D. creativity	
5. A. Internet 	B. cultural 	C. socialise 	D. communicate
II. VOCABULARY
Choose the word or phrase that best completes each sentence below.
6. Collecting honey from the __________ requires a lot of skills.
 A. beehive 	B. beenest 	C. beehouse 	D. beehome
7. We are very sorry for any ________ caused by our late delivery.
 A. convenient 	B. convenience 	C. inconvenient 	D. inconvenience
8. In some rural areas, it's difficult to find _______ in a house.
A. electric appliances 	B. electricity appliances 
C. electrical appliances 	D. electrician appliances
9. The villager's _______ saved the travellers from starving.
 A. generosity 	B. generosy 	C. generousity 	D. generousness
10. Do not __________! They are doing a very important project.
 A. disturb 	B. annoy 	C. play 	D. make fun
11. People living a __________ life have to move a lot.
 A. moving 	B. stable 	C. nomadic 	D. commuting
12. __________ fruits in a farm is one of the most popular part-time job among students studying abroad.
 A. Picking 	B. Doing 	C. Taking 	D. Finding
13. Children in the countryside are used to _________ cattle in the field.
 A. walking 	B. herding 	C. following 	D. raising
14. A/An ___________ area of that forest – about more than 1000 hectares – was destroyed in the fire.
 A. vast 	B. tiny 	C. small 	D. inconsiderable
15. __________ kite is one of the most popular outdoor activities among children in the countryside.
 A. Doing 	B. Singing 	C. Flying 	D. Using
Choose the word or phrase that is CLOSEST in meaning to the part in eac of the following sentences.
16. It easy to get on well with neighbourhood in the countryside. People are all friendly and willing to help each other.
A. to work together with 	
B. to be a helpful friend of
C. to have a friendly relationship with 	
D. to exchange goods with
17. The baby is sleeping sound in her mother's arms.
 A. deeply and peacefully 	B. easily to wake up
 C. sensibly 	D. safely
18. People in this village are all skilful craftsmen. Their products are qualified for the European market.
 A. professional 	B. amateur 	C. intelligent 	D. fast
Choose the word or phrase that is OPPOSITE in meaning to the underline part in each of the following sentences.
19. She's a sociable child who loves to talk to anyone.
 A. outgoing 	B. anti-social 	C. lovely 	D. unfriendly 
20. The King was not brave enough to protect his kingdom and let the monster take the Princess away.
 A. courageous 	B. confident 	C. strong 	D. coward

Tài liệu đính kèm:
bai_tap_trac_nghiem_kiem_tra_tieng_anh_lop_8_unit_2_life_in.doc