Đề kiểm tra học kỳ I Tiếng anh Lớp 8 (Kèm đáp án)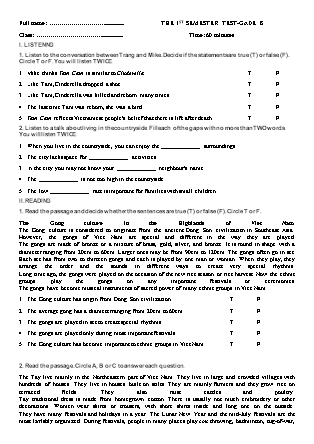 The Gong culture in the Highlands of Viet Nam
The Gong culture is considered to originate from the ancient Dong Son civilization in Southeast Asia. However, the gongs of Viet Nam are special and different in the way they are played.
The gongs are made of bronze or a mixture of brass, gold, silver, and bronze. It is round in shape with a diameter ranging from 20cm to 60cm. Larger ones may be from 90cm to 120cm. The gongs often go in set. Each set has from two to thirteen gongs and each is played by one man or woman. When they play, they arrange the order and the sounds in different ways to create very special rhythms.
Long time ago, the gongs were played on the occasion of the new rice season or rice harvest. Now the ethnic groups play the gongs on any important festivals or ceremonies.
The gongs have become musical instruments of sacred power of many ethnic groups in Viet Nam.
1. The Gong culture has origin from Dong Son civilization. T F
2. The average gong has a diameter ranging from 20cm to 60cm. T F
3. The gongs are played in set to create special rhythms. T F
4. The gongs are played only during most important festivals. T F
5. The Gong culture has become important to ethnic groups in Viet Nam. T F
Bạn đang xem tài liệu "Đề kiểm tra học kỳ I Tiếng anh Lớp 8 (Kèm đáp án)", để tải tài liệu gốc về máy bạn click vào nút DOWNLOAD ở trên
Full name: ...............................................
Class: ......................................................
THE 1ST SEMESTER TEST-GADE 8
Time: 60 minutes
I. LISTENING
1. Listen to the conversation between Trang and Mike. Decide if the statements are true (T) or false (F). Circle T or F. You will listen TWICE.
1.
Mike thinks Tam Cam is similar to Cinderella.
T
F
2.
Like Tam, Cinderella dropped a shoe.
T
F
3.
Like Tam, Cinderella was killed and reborn many times.
T
F
4.
The last time Tam was reborn, she was a bird.
T
F
5.
Tam Cam reflects Vietnamese people's belief that there is life after death.
T
F
2. Listen to a talk about living in the countryside. Fill each of the gaps with no more than TWO words. You will listen TWICE.
1.
When you live in the countryside, you can enjoy the _____________ surroundings.
2.
The city lacks space for _____________ activities.
3.
In the city you may not know your _____________ neighbour's name.
4.
The _____________ is not too high in the countryside.
5.
The low _____________ rate is important for families with small children.
II. READING
1. Read the passage and decide whether the sentences are true (T) or false (F). Circle T or F.
The Gong culture in the Highlands of Viet Nam
The Gong culture is considered to originate from the ancient Dong Son civilization in Southeast Asia. However, the gongs of Viet Nam are special and different in the way they are played.
The gongs are made of bronze or a mixture of brass, gold, silver, and bronze. It is round in shape with a diameter ranging from 20cm to 60cm. Larger ones may be from 90cm to 120cm. The gongs often go in set. Each set has from two to thirteen gongs and each is played by one man or woman. When they play, they arrange the order and the sounds in different ways to create very special rhythms.
Long time ago, the gongs were played on the occasion of the new rice season or rice harvest. Now the ethnic groups play the gongs on any important festivals or ceremonies.
The gongs have become musical instruments of sacred power of many ethnic groups in Viet Nam.
1.
The Gong culture has origin from Dong Son civilization.
T
F
2.
The average gong has a diameter ranging from 20cm to 60cm.
T
F
3.
The gongs are played in set to create special rhythms.
T
F
4.
The gongs are played only during most important festivals.
T
F
5.
The Gong culture has become important to ethnic groups in Viet Nam.
T
F
2. Read the passage. Circle A, B or C to answer each question.
The Tay live mainly in the Northeastern part of Viet Nam. They live in large and crowded villages with hundreds of houses. They live in houses built on stilts. They are mainly farmers and they grow rice on terraced fields. They also raise cattles and poultry.
Tay traditional dress is made from homegrown cotton. There is usually not much embroidery or other decorations. Women wear skirts or trousers, with short shirts inside and long one on the outside.
They have many festivals and holidays in a year. The Lunar New Year and the mid-July festivals are the most lavishly organized. During festivals, people in many places play con throwing, badminton, tug-of-war, dragon dancing, or chess.
The Tay eat mainly sticky rice. On festival occasions, they make many kinds of cakes, such as banh chung (sticky rice square cakes), banh day (sticky rice round cakes) or banh khao (cakes made of white rice flour).
1.
Which of the following best describes the main idea of the passage?
A. The Tay live in the Northeastern part of Viet Nam.
B. The Tay make many kinds of cakes on festival occasions.
C. The Tay have many festivals and holidays in a year.
D. The life of the Tay in Viet Nam.
2.
What do the Tay mainly eat?
A. sticky rice
B. sticky rice round cakes
C. sticky rice square cakes
D. cakes made of white rice flour
3.
Which of the following is NOT true of the Tay?
A. They live on stilt houses.
B. They grow rice on terraced fields.
C. They wear clothes with much embroidery.
D. They eat sticky rice.
4.
Which is true of the Tay's life?
A. They mainly work in agriculture.
B. They work in industry.
C. They have one very important festival a year.
D. They buy cotton to make dress.
5.
The word "lavishly" is closest in meaning to ______.
A. seriously
B. carefully
C. luxuriously
D. lengthily
III. WRITING
1. Write a short paragraph (80-100 words) about the differences between the countryside and the city.
You should write about:
- Environment
- Education
- Traffic
- Whether you want to live in the countryside or not
____________________________________________________________________________________
____________________________________________________________________________________
____________________________________________________________________________________
____________________________________________________________________________________
____________________________________________________________________________________
____________________________________________________________________________________
____________________________________________________________________________________
2. Complete each of the following sentences using the cues given. You can use other words in addition to the cues to complete the sentences.
Here is an example.
0.
Ngoc/usually/play/badminton/Sunday.
Answer: 0. Ngoc usually plays badminton on Sundays.
1.
Viet Nam/multicultural/country/54/ethnic/groups.
_______________________________________________________________
2.
Ede's/principal/food crop/rice.
_______________________________________________________________
3.
gongs/significant/Ede's festivals/cultural activity.
__________________________________________
4.
When/small/young Khmer/people/to pagodas/study/improve/knowledge.
_______________________________________________________________
5.
Hmong's/history/remain/difficult/trace/because/tradition/oral ones.
_______________________________________________________________
IV. SPEAKING
1. Now I'm going to ask you FOUR questions about your friends' hobbies. Are you ready?
1.
What do you do when you have free time?
2.
How long have you been doing it/them?
3.
What do you like about it/them?
4.
Do you like reading books? Why/Why not?
2. Each of you will now receive a card. On the card there is a picture and clues for four questions. You should use the words to make questions and ask your friend. Your friend will answer the questions based on the picture he/she has.
CARD A
Use the words given below to make questions. Ask your friend about his/her picture and listen to the answers.
1.
What/see/picture?
2.
Where/picture/taken?
3.
What/do?
4.
How/people/look?
Now, your friend will ask you questions about your picture. Answer his/her questions.
CARD B
Use the words given below to make questions. Ask your friend about his/her picture and listen to the answers.
1.
What/see/picture?
2.
Where/picture/taken?
3.
What/do?
4.
How/people/look?
Now, your friend will ask you questions about your picture. Answer his/her questions.
-- The end --
manual page break
Đáp án
I. LISTENING
1. Listen to the conversation between Trang and Mike. Decide if the statements are true (T) or false (F). Circle T or F. You will listen TWICE.
1. T 2. T 3. F 4. F 5. T
Hello. This is Tieng Anh 8. Unit 6. Listening Test.//
Task 1. Listen to the conversation between Trang and Mike.//
Decide if the statements are true (T) or false (F). //
Circle T or F.//
You will listen TWICE.//
Now listen and circle T or F.//
Mike: What is your favorite fairy tale, Trang?
Trang: It's a story called Tam Cam.
Mike: What is it about?
Trang: There is a very beautiful and kind girl named Tam. Her mother died early, and her father remarried. Unfortunately, her stepmother and stepsister were very mean to her.
Mike: It sounds like Cinderella to me.
Trang: Yes, Tam Cam is very much like Cinderella. Tam also dropped a shoe when he met the king for the first time, and the king also sent the shoe around the country to find her.
Mike: Are there any other similarities?
Trang: Actually, those are all the similar details. The rest is rather different. Tam was harmed by her stepmother 
and stepsister many times. Each time she died, she was reborn into a new form. The last time she was reborn,
 she lived in a fruit!
Mike: That's interesting. Is this because Vietnamese people believe in afterlife?
Trang: You're probably right.
(Dừng)
Now listen again. (phát lại bài nghe)
(Dừng)
2. Listen to a talk about living in the countryside. Fill each of the gaps with no more than TWO words. You will listen TWICE.
1. beautiful 2. outdoor 3. next door 4. living standard 5. crime
TASK 2: Listen to a talk about living in the countryside.// Fill each of the gaps with no more than TWO words. //
You will listen TWICE.//
Now listen and fill the gaps.//
Living in the countryside is much better than living in a big city. You can enjoy the beautiful surroundings and spend lots of time outdoors. In the city, there is much less space for outdoor activities. What's more, people in the countryside are generally nicer. It is common that you know everyone in your village, whereas in the city you may not even know your next door neighbour's name. This is partly because people in the city are too busy with their work. In the countryside, the living standard is not too high, so there is less pressure to earn much money. Therefore, you will feel more comfortable and relaxed. Social safety is another advantage. Crime rate is normally lower in the country compared to that in big cities. This is particularly important for families with small children. All in all, living in the countryside is the best choice.
(Dừng)
Now listen again. (phát lại bài nghe)
(Dừng)
II. READING
1. Read the passage and decide whether the sentences are true (T) or false (F). Circle T or F.
1. T 2. T 3. T 4. F 5. T
2. Read the passage. Circle A, B or C to answer each question.
1. D 2. A 3. C 4. A 5. C
III. WRITING
1. Write a short paragraph (80-100 words) about the differences between the countryside and the city.
There are a number of differences between the countryside and the city. In the first place, the air in the countryside is often fresher because there are not many factories and vehicles. However, in the city, there are more schools and universities so urban people have more educational choices. Also, because there are more people in big cities, during rush hours, there are lots of traffic jams. As for me, I prefer living in the city when I am young because I have a better chance to get a good job with a high salary.
2. Complete each of the following sentences using the cues given. You can use other words in addition to the cues to complete the sentences.
1.
Viet Nam is a multicultural country with 54 ethnic groups.
2.
The Ede's principal food crop is rice.
3.
The gongs are significant in Ede's festivals and cultural activities.
4.
When small, young Khmer people go to pagodas to study to improve knowledge.
5.
The Hmong's history remains difficult to trace because their traditions are oral ones.
IV. SPEAKING

Tài liệu đính kèm:
de_kiem_tra_hoc_ky_i_tieng_anh_lop_8_kem_dap_an.doc

868281573902267.mp3